Description
TU LOC COOPERATIVE – NATURAL STONE QUARRY OWNER – CRYSTAL WHITE MARBLE SLABS
https://tuloc.com.vn/product-category/natural-marble-stone/
𝐓𝐨𝐩 5 𝐛𝐞𝐧𝐞𝐟𝐢𝐭𝐬 𝐰𝐡𝐞𝐧 𝐛𝐮𝐲𝐢𝐧𝐠 𝐖𝐡𝐢𝐭𝐞 𝐌𝐚𝐫𝐛𝐥𝐞 𝐒𝐥𝐚𝐛𝐬 𝐟𝐫𝐨𝐦 Tu Loc Cooperative 𝐢𝐧 𝐕𝐢𝐞𝐭𝐧𝐚𝐦!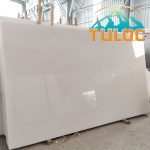 + 100% natural stones and clean material
+
High strength properties – Enduring along with the time
+
Multiple sizes and quality for your reference
+
Good Cutting, Packing, and Loading
+
Checking pcs by pcs, get photos and videos before packing.
Crystal white marble slabs are easy to combine with furniture in any style, marble effect slabs underline both the details and the overall effect, adding a sophisticated touch of natural prestige to the overall atmosphere in a space! We have grade A – grade B – Grade C – and mix quality, which is suitable for the demands of each customer. We are willing to supply the best quality product at the best price.
[TU LOC COOPERATIVE ] 𝑖𝑠 𝑐𝑜𝑚𝑚𝑖𝑡𝑒𝑑 𝑡𝑜 𝑏𝑒𝑖𝑛𝑔 𝑎 𝒑𝒓𝒆𝒔𝒕𝒊𝒈𝒊𝒐𝒖𝒔 𝑎𝑛𝑑 𝒓𝒆𝒍𝒊𝒂𝒃𝒍𝒆 𝑝𝑎𝑟𝑡𝑛𝑒𝑟 𝑓𝑜𝑟 𝑜𝑢𝑟 𝑑𝑖𝑠𝑡𝑟𝑖𝑏𝑢𝑡𝑜𝑟𝑠 𝑡ℎ𝑟𝑜𝑢𝑔ℎ 𝑚𝑢𝑡𝑢𝑎𝑙𝑙𝑦 𝑏𝑒𝑛𝑒𝑓𝑖𝑐𝑖𝑎𝑙 𝑎𝑛𝑑 𝑙𝑜𝑛𝑔-𝑡𝑒𝑟𝑚 𝑟𝑒𝑙𝑎𝑡𝑖𝑜𝑛𝑠ℎ𝑖𝑝𝑠. 𝑊𝑒 𝑤𝑖𝑙𝑙 𝑠𝑢𝑝𝑝𝑜𝑟𝑡 𝑜𝑢𝑟 𝑝𝑎𝑟𝑡𝑛𝑒𝑟𝑠 𝑎𝑛𝑑 𝑑𝑒𝑙𝑖𝑣𝑒𝑟 𝑡ℎ𝑒 𝑏𝑒𝑠𝑡 𝑐𝑢𝑠𝑡𝑜𝑚𝑒𝑟 𝑠𝑒𝑟𝑣𝑖𝑐𝑒.
–  We are 𝒕𝒉𝒆 𝒍𝒆𝒂𝒅𝒊𝒏𝒈 𝒐𝒇 𝒏𝒂𝒕𝒖𝒓𝒂𝒍 𝒔𝒕𝒐𝒏𝒆𝒔 𝒎𝒂𝒏𝒖𝒇𝒂𝒄𝒕𝒖𝒓𝒆, 𝒆𝒙𝒑𝒐𝒓𝒕 𝒄𝒐𝒓𝒑𝒐𝒓𝒂𝒕𝒊𝒐𝒏 𝒊𝒏 𝑽𝒊𝒆𝒕𝒏𝒂𝒎 founded by members having many years of experience in this field.
– We provide a 𝒗𝒆𝒓𝒊𝒆𝒕𝒚 of natural decorative stones with many unique finished for customers to express their own style.
–  Naturally sourced from quarries, our product have 𝒄𝒍𝒆𝒂𝒏 𝒑𝒐𝒘𝒆𝒓, 𝒆𝒏𝒗𝒊𝒓𝒐𝒏𝒎𝒆𝒏𝒕𝒂𝒍𝒍𝒚 𝒂𝒏𝒅 𝒔𝒂𝒇𝒆 𝒇𝒐𝒓 𝒖𝒔𝒆𝒓'𝒔 𝒉𝒆𝒂𝒍𝒕𝒉
– We are able to 𝒔𝒖𝒑𝒑𝒍𝒚 𝒃𝒊𝒈 𝒒𝒖𝒂𝒏𝒕𝒊𝒕𝒚 𝑤𝑖𝑡ℎ 𝒄𝒐𝒎𝒑𝒆𝒕𝒊𝒕𝒊𝒗𝒆 𝒑𝒓𝒊𝒄𝒆, right with the desired requirements of customers 𝐍𝐚𝐭𝐮𝐫𝐚𝐥 𝐃𝐞𝐜𝐨𝐫𝐚𝐭𝐢𝐯𝐞 𝐒𝐭𝐨𝐧𝐞𝐬 𝐰𝐡𝐚𝐭 𝐰𝐞 𝐚𝐫𝐞 𝐬𝐞𝐥𝐥𝐢𝐧𝐠 𝐨𝐧 𝐦𝐚𝐫𝐤𝐞𝐭 𝐧𝐨𝐰: