Description
_____PEBBLE MARBLE _____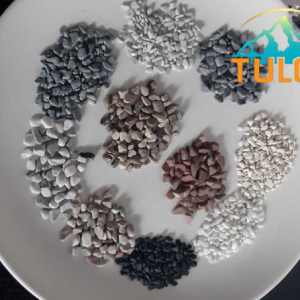 Company: Tu Loc Corporation in Vietnam
Product: Pebble Marble
Origin: Vietnam
Type: Decorative stones
Quality: First choice
Size: Depending on customers orders
Packing: Box
Min order: 1 container
Delivery: Depending on the quantity
Port of loading: Hai Phong port, Vietnam
Payment: T/T, L/C at sight and others
𝟽 𝐓𝐡𝐢𝐧𝐠𝐬 𝐌𝐚𝐲𝐛𝐞 𝐘𝐨𝐮 𝐀𝐥𝐫𝐞𝐚𝐝𝐲 𝐊𝐧𝐨𝐰 𝐀𝐛𝐨𝐮𝐭 Tu Loc Cooperative Product
𝟙. 100% natural stone – look gorgeous – highly durable material
𝟚. No radioactive substances – warranted free from impurities
𝟛. High-tech machines – Automated production line
𝟜. Stable source from large quarry
𝟝. Easy apply for both of interior & exterior
𝟞. Fast delivery
𝟟. Affordable price There are more beneficial than you might think, especially if you choose to purchase your from Tu Loc Cooperative.
https://tuloc.com.vn/product-category/garden-stone-paving-stone/
– 𝐖𝐡𝐲 𝐲𝐨𝐮 𝐬𝐡𝐨𝐮𝐥𝐝 𝐜𝐡𝐨𝐨𝐬𝐞 𝐓𝐮 𝐋𝐨𝐜 𝐂𝐨𝐫𝐩𝐨𝐫𝐚𝐭𝐢𝐨𝐧 𝐚𝐬 𝐲𝐨𝐮𝐫 𝐃𝐞𝐜𝐨𝐫𝐚𝐭𝐢𝐯𝐞 𝐒𝐭𝐨𝐧𝐞𝐬 𝐬𝐮𝐩𝐩𝐥𝐢𝐞𝐫?
– We are 𝒕𝒉𝒆 𝒍𝒆𝒂𝒅𝒊𝒏𝒈 𝒐𝒇 𝒏𝒂𝒕𝒖𝒓𝒂𝒍 𝒔𝒕𝒐𝒏𝒆𝒔 𝒎𝒂𝒏𝒖𝒇𝒂𝒄𝒕𝒖𝒓𝒆, 𝒆𝒙𝒑𝒐𝒓𝒕 𝒄𝒐𝒓𝒑𝒐𝒓𝒂𝒕𝒊𝒐𝒏 𝒊𝒏 𝑽𝒊𝒆𝒕𝒏𝒂𝒎 founded by members having many years of experience in this field.
– We provide a 𝒗𝒆𝒓𝒊𝒆𝒕𝒚 of natural decorative stones with many unique finishes for customers to express their own style.
–
Naturally sourced from quarries, our product has 𝒄𝒍𝒆𝒂𝒏 𝒑𝒐𝒘𝒆𝒓, 𝒆𝒏𝒗𝒊𝒓𝒐𝒏𝒎𝒆𝒏𝒕𝒂𝒍𝒍𝒚 𝒂𝒏𝒅 𝒔𝒂𝒇𝒆 𝒇𝒐𝒓 𝒖𝒔𝒆𝒓'𝒔 𝒉𝒆𝒂𝒍𝒕𝒉
–
We are able to 𝒔𝒖𝒑𝒑𝒍𝒚 𝒃𝒊𝒈 𝒒𝒖𝒂𝒏𝒕𝒊𝒕𝒚 𝑤𝑖𝑡ℎ 𝒄𝒐𝒎𝒑𝒆𝒕𝒊𝒕𝒊𝒗𝒆 𝒑𝒓𝒊𝒄𝒆, right with the desired requirements of customers
 𝗗𝗢𝗡'𝗧 𝗠𝗜𝗦𝗦 𝗢𝗨𝗥 𝗢𝗙𝗙𝗘𝗥 𝗧𝗛𝗜𝗦 𝗠𝗢𝗡𝗧𝗛
𝐖𝐡𝐲 𝐂𝐡𝐨𝐨𝐬𝐞 Pebble Marble from Tu Loc ?
Our Pebble Marble is held in high regard as a premier building material because it reflects unique character, stability, and grandeur. Variations in natural stone's broad range of color, pattern, and texture are visually interesting and impossible to replicate. And, because it comes from the earth, from eco-friendly compositions, it is a natural choice.
𝐕𝐚𝐫𝐢𝐞𝐭𝐲
The diversity of natural stone products encourages limitless design potential. Aesthetically, what you do with stone is as varied as your imagination. Its many factors in the way stone formed within the Earth contribute to its varieties and enhance the creativity it provides – something that cannot be duplicated in a laboratory or come from a mound.
𝐃𝐮𝐫𝐚𝐛𝐢𝐥𝐢𝐭𝐲
Natural stone exhibits a durability not found in other building materials. There is an emotional connection to buildings and monuments built in stone that carries a great deal of meaning due to enduring history and a legacy of mankind through the ages.
More information, please feel free contact :
WhatsApp: +84 94 998 0634
Email: Order@tuloc.com.vn
Facebook Page: https://www.facebook.com/tuloccorporation
YouTube: https://youtu.be/chq_-6dDncw